Call Gallagher Roofing on 01248 351 886
PV Solar Panels and Solar Thermal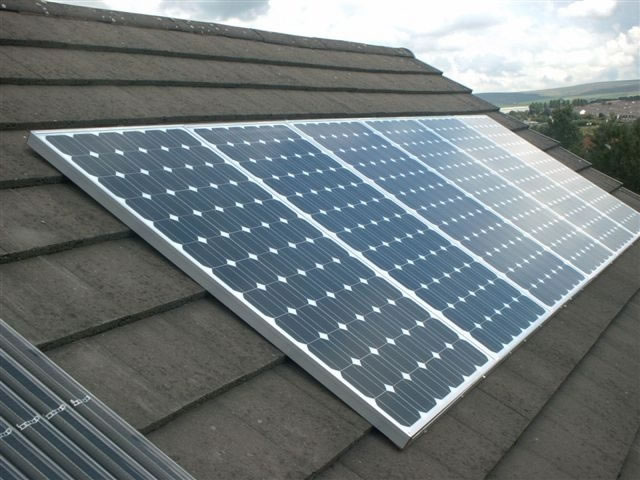 A. Gallagher & Son are based in Bangor Gwynedd and also cover Conwy and Anglesey. We are MCS accredited which means you will be entitled to feed-in tarrifs after our Solar panel installations. We specialise in the installation of the most up to date solar thermal hot water heating systems and solar photovoltaic (PV) electricity systems. We are committed to excellent customer service, quality products and clean energy; we quote and deliver the most cost effective solar PV and Solar Thermal energy systems which can dramatically reduce your energy bills and your carbon footprint.
We employ highly skilled solar PV electricians with part p qualifications and PV installer certificates to install Solar Electricity. We also employ plumbers who are certified in part G3 unvented hot water. Together with our qualified roofers, we can guarentee products are installed correctly without the risk of a leaking roof through poor workmanship. We can also quote you a price on system inspections in and around Bangor Gwynedd, Anglesey and Conwy.
High Quality Solar Thermal Hot Water and PV Solar Electrical Systems in Gwynedd Conwy and Anglesey.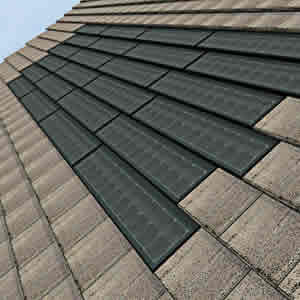 A. Gallagher & Son install high quality solar thermal hot water and solar electric photovoltaic (PV) panel systems which guarantee high performance whatever the weather. The Solar energy systems are extremely durable and reliable as they have been designed specifically for the northern hemisphere climate such as Anglesey, Gwynedd and Conwy. There is minimal maintenance as there is very littlewhich can go wrong with solar pv and thermal systems. No matter which solar energy panel type you choose, the rewards are both financial and environmental.
The panels we install do not require direct sunshine but operate on radiated light. This means on a typical cloudy British day, our solar heating systems will still produce high levels of thermal solar hot water or/and pv electricity. Contact us for a free estimate.
Renewable Energies For Your Home
Our solar energy systems can generate as much as 52% of your electricity and 71% of your hot water requirements. You'll help make a greener environment and save cash at the same time. Remember, climate change and global warming issues are a priority for the authorities.
As we are fully government accredited solar installers here in Bangor, Gwynedd, we can reduce energy usage and lower our own carbon footprint by employing local tradesmen who live near you.
Solar PV Panel Systems
Our customers are eligible for extra cash through a set "feed-in tariff" (15.44p per kWh) issued towards the cost of creating solar electricity. This means the more energy your system creates, the more money you will recieve. Our typical Solar PV panel installation will take 5 years to pay for itself, large proffits will be made thereafter and you will then carry on saving on your energy bills. Please contact us our base in Bangor, if you live in or around Anglesey, Gwynedd or Conwy for a free quote/estimate with acomprehensive chart of figures. This will give you the exact calculations so you can see how much you will save and make in proffit. The "feed in tariff" cannot be obtained through any non accredited companies.
Electricity created from solar PV panels will also be sold off for cash, increasing proffit with our electricians connecting your appliances to the national grid. This will mean that you make money by selling the electricity you have produced back to the supplier. Keep in mind how much energy is going to cost in future.
Lifespan of PV Systems
There are no moving parts in the modules Solar PV modules and they should last in excess of 25 years. After this time the cells will still continue to produce electricity, but at a less efficient rate. This lifespan is stated within the manufacturer's guarantee which is handed over to our customers with every installation for extra piece of mind.
EPC Inspection
One of the requirements for Solar PV is for an EPC inspection to be carried out. Most other companies ask that you get this done by a private EPC inspector before hand. We carry out EPC inspections as part of our package and this will ensure your installation runs smoothly with no complications.
Lightning and surge protection
Lightning can cause damage and does so quite often even here in areas such as Conwy, Anglesey and Gwynedd. It causes damage either from a direct strike or from surges due to a nearby strike. Induced surges are the more likely cause of lightning damage in the majority of installations, especially in rural areas where electricity supplies are usually by long overhead lines may be induced on both the PV array conductors and the cables within the building. A. Gallagher & Son can apply surge protection measures if requested.
Lightning Protection Systems
Where there is a perceived increase in risk of direct strike as a consequence of the installation of the PV system, our company as specialists in lightning protection can be consulted with a view to installing a separate lightning protection system in accordance with BS 6651.
If the building or dwelling is fitted with a lightning protection system (LPS), our company as lightning protection installers can be consulted as to whether, in this particular case, the array frame should be connected to the LPS, and what size conductor should be used.
Inspection and testing
Inspection and testing of the completed system to the requirements of BS 7671 will be carried out and documented by our company. Provision of this documentation is a requirement of Part P of the Building Regulations. Get a quote for inspection and testing today by contacting us by telephone or email.
The inspection and testing of existing electrical circuits already within your property will be comprehensively covered under BS 7671 by Gallagher Roofing at time of installation which offers you as a customer, a free electrical safety check for your household. Inspection and testing documentation typically comprises of an installation certificate, which includes a schedule of items inspected and a schedule of test results. We also hand out array commissioning tests after completion, which are panel performance tests recommended to verify performance as a check for faulty modules. Finally we hand out copies of E.R. G83/1 and G59/1 commissioning in order to satisfy the requirements of the Distribution Network Operator.
Solar Thermal Hot Water systems
The purpose of a solar hot water system is to:
collect solar energy for heating water
reduce annual fuel bills
reduce our dependence on limited fossil fuels
cut carbon dioxide emissions
A properly sized and installed SHW system will typically:
collect up to 2500 kWh per year of solar energy
displace a greater amount of fossil fuel energy than the system delivers. This amount will depend on which fossil fuel is being displaced and the auxiliary heat source efficiency when providing domestic hot water
offset carbon dioxide emissions of up to 800 kg per year depending on system size and the fossil fuel being displaced
For every panel we install a series of durability tests are undertaken before which includes:
Resistance to leakage and distortion from internal pressure
Ability to withstand high temperature without fluid
Ability to withstand long periods without fluid (exposure)
Resistance to rain penetration
An internal temperature shock test
An external temperature shock test
Ability to resist frost
A downward pressure test on the glazing simulating wind and snow loads
An upward pressure on the glazing simulating wind lift
An upward pressure on the collector fixing brackets
Ability of glazing to withstand impact
The average annual solar radiation falling on the earth per surface square metre in the UK is between 900 and 1100 Kilowatt Hours per square metre per year.
Hot Water Solar Thermal Maintenance
Our maintenance teams employed in Solar Hot Water Systems can carry out periodic maintenance to ensure optimum performance. A periodic service visit will include inspections and the attention to works in need of such as:
collector glazing is clean and intact
collector weather seals are sound
collector fixings are good condition and secure
collector sensor is in position and secure
external pipe insulation is in good condition
internal pipe insulation is in good condition
storage vessel sensors are in position and secure
the system is leak free
system pressure is correct (fully filled pressurized)
system flow rate is correct
circulating pump is correct speed setting and not noisy in operation
pressure relief valve is operational and reseats correctly
system controller functions are operational
earthing arrangements are intact
heat transfer fluid is not acidic; a PH test
heat transfer fluid can still sufficiently protect against frost
system components do not show signs of corrosion
general fault finding
Planning with Gwynedd, Conwy and Anglesey County Council
Most installations can be installed under 'permitted development rights' and will not require a formal planning application for Solar PV electricity and Solar Thermal hot water systems; where there is doubt, advice should be sought from a Gwynedd, Conwy or Anglesey local planning authority.